Jun 9, 2012
Posted by Lora
Since our last month's newsletter, many things have been happening in our lives here in Madagascar. So here's a quick update: My sister came to visit and experience Madagascar with us for a few weeks. Matimu had his first birthday and is now standing up, climbing, and cruising around the room on his own! Our first phase of learning here in Madagascar is finished...
read more
About Us
The Willards are missionaries to Madagascar, the world's fourth-largest island, located off the southeast coast of Africa. They strive to work for the Kingdom of God where it's not yet known, spreading the abundant life of Jesus through church planting and sustainable community development.
More About the Willards...
Subscribe by email
If you want to receive email updates every time there's a new post, subscribe here!
Other Posts
June 20, 2009
I know they say, "You are what you eat."  But if that saying were true, I'd have chicken legs and feet, the body of a locust, my brains would be made out of mopani worms, and my insides would be composed of mushy mealie pap and slimy green leaves and vines.  Thankfully that saying [...]
November 7, 2008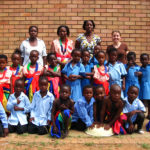 Lora and I have been living and working in our rural village here in South Africa for several months now.  Before arriving, we were hoping that people would be glad we're here and available to help.  We even expected a bit more attention than we were used to, for a variety of reasons.  But we [...]